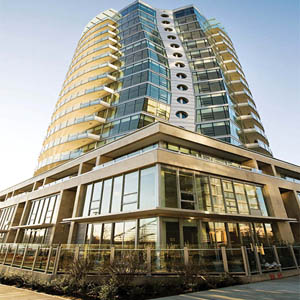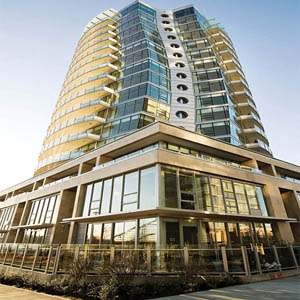 The Peter Ross Group of Companies is expanding beyond its Western Canada base by going after government and other high-profile projects. By Jim Harris
Peter Ross Group of Companies
Revenues: $38 million HQ: Burnaby, B.C. Employees: 110
Specialty: Roofing, waterproofing and flooring
The Peter Ross Group of Companies' relationship with its customers does not end after it completes its work. The Burnaby, British Columbia-based group includes 27 companies in Canada, the United States and Australia within three main divisions: residential roofing and waterproofing, construction and restoration, and construction material distribution.
"Our philosophy is maintaining quality, looking after our customers and never cutting corners," President Justin Ross says. "We always look after and stand behind what we do."
The roofing division performs roofing and waterproofing on new construction and existing projects, with a focus on highrise residential towers and commercial buildings. The construction division focuses on renovation projects, while a large part of the distribution division's business is in selected waterproofing and roofing products and bamboo flooring.
"We supply and/or install many of the highest-quality products available on the market and embrace innovative new technologies as they become available," Ross explains.
Ross says the company prides itself on long-term relationships with many of Canada's largest general contractors. The company also regularly works with environmental engineering companies and project management groups to provide a full restoration and construction program on existing buildings.
Recent projects include providing 65 percent of the roofing and waterproofing for the Olympic Village in Vancouver during the 2010 Winter Games. The company also worked on the redevelopment of a former Woodward's department store in Vancouver helping convert it into a high-rise residential and commercial development.
>> New products include an an fracture acoustic membrane sy tem installed underneath ceram tile, hardwood and other types of flooring that prevents cracking and reduces sound transmission through the floor, he adds.
Environmental Focus
The Peter Ross Group recently gained Forest Stewardship Council (FSC) certification. The certification recognizes the sustainability practices involved in the harvesting and use of the bamboo in the company's flooring.
The Forest Stewardship Council was created in 1993 "to change the dialogue about and the practice of sustainable
forestry worldwide," the council says. "FSC certification provides a credible
link between responsible production and consumption of forest products, enabling consumers and businesses to make purchasing decisions that benefit people and the environment as well as providing ongoing business value," it adds.
The certification clears the way for the
Peter Ross Group of Companies' floors
to be used on LEED-certified projects. Peter Ross Group also uses other environmentally friendly products including a 100 percent urethane adhesive.
"We engage in the LEED process as much as possible," Ross says.