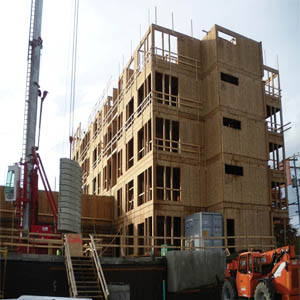 Oris Consulting Ltd. has a huge hand in setting precedent for six-storey, wood-framed structures in Richmond. By Brian Salgado
"The advantage is that the experi ence learned from this initial devel opment will make those associated with the work more able to consider future changes to the industry."
> Mike Cooper, project manager
Penta Building Group/Oris Consulting Ltd. – The Remy
Location: Richmond, British Columbia
Scope: 259-unit mixed-use development
The Remy – a 259-unit, mixed-use development in Richmond, British Columbia – has the distinction of being the first six-storey wood-framed structure to earn permits in this province. However, the project has the good fortune to have Project Manager Mike Cooper from Oris Development Corp. on its team, and he brings the experience of building such structures in Europe, where he spent the first 20 years of his construction career. Even with that experience, however, Cooper says there are plenty of chal lenges that arise when a company deliv ers the first project of its kind to permit ting agencies that have never worked with that specific building type.
This has brought together Oris Development, builder Penta Building and the city of Richmond to ensure all permitting needs are covered.
"Since the six-storey building is a new code requirement, the developer, the consulting company and the designers are very much closely working with the city of Richmond in defining and under standing what the code requirements really mean," Cooper says.
The Remy consists of three residential buildings that occupy a total of 186,000 square feet. The development features 1,700 square feet of indoor amenities that include a fitness centre. The devel opment also will have a 6,600-squareaz foot day care facility, all of which will sit on a two-storey parkade.
The Remy also is close to TransLink's new Aberdeen Station, which offers con venience for homeowners who want to be near shopping, the beach or the University of British Columbia. Along with quick access via public transporta tion, there are a variety of shopping options available within walking distance of The Remy, including Landsdowne Centre, Aberdeen Centre and Yaohan Centre. The location also is close to the restaurants Earls, Sammy J Peppers, the Thai House and Sun Sui Wah. Also, there are movie theatre options like the SilverCity Cinemas and Cineplex Odeon in the Richmond Centre Mall. River Rock Casino offers music and entertainment most nights of the week, and there are plenty of karaoke bars and coffee and tea houses to explore
Site Manager Murray Thiessen and Project Manager Mike Cooper c of The Remy development in Richmond, British Columbia.
Sales Goals
The development broke ground after receiving foundation permits in June 2010. The first phase of the residential portion of the job is slated for comple tion by July 2011.
Two-thirds of the residential portion is expected to be completed by the end of 2011, with the last phase slated for com pletion by mid-2012.
Cooper says these phases will be launched based on the strength of sales of the units. Since, however, the remain ing units that are available for sale are economic and cost-effective, both in capital cost and operating costs, sales are projected to be very rapid once the last building is offered for sale.
Cooper says the project was originally slated for 251 units. It was redesigned in the 11th hour, however, to convert each three-bedroom unit into two one-bed room units, which helped The Remy meet British Columbia's affordable housing requirement. The units now range from studios to two-bedroom, two-bathroom floor plans.
The units will be outfitted with ener gy-efficient amenities, as well. For instance, processes are in place to con serve water and energy, such as a geot hermal heating and cooling system.
Also, all paint and sealants are envi ronmentally friendly, and the landscap ing is designed to require minimal main tenance. The cost effectiveness of the geothermal heating/cooling system planned for The Remy project is such that the city of Richmond is working with Oris Developments to provide its first District Energy System, which will cover the entire subdivision. Thus, other multifamily developments in the subdi vision can incorporate this efficient, green heating/cooling system
Setting New Standards
Being the first to work with new stan dards for construction as they are being finalized can prove to be challenging, Cooper admits. Because these codes are new to the Canadian construction mar ket, many building materials are not yet readily available locally. Instead, the construction team had to custom-order a good deal of materials to adhere to a number of new standards that come with permits for 6-storey wood structures.
"You have to find something that matches the code practically, and some of those are not manufactured and had to be specially made," Cooper says. "There was no demand in the past, so why would they produce now?"
In the near future, as six-storey wood structures become more standard, prod ucts not available now will generate a demand and will become available by local manufacturing industries. This will make industry in the Lower Mainland more productive rather than being a supplier of basic materials and will enable British Columbia to become Canada's leading technological building manufacturer, Cooper predicts. This will also add to exports for the industry.
For example, The Remy has been designed with fire walls to be made out of wood with fire resistant sheathing com pared to current standards using con crete block work. The same applies to elevator shafts.
The assembly of fire ratings has tech nically improved the fire rating stan dards to the structure and as such is anticipated now to be required for the standard four-storey wood structures.
"Since the six-storey building is a new code requirement, the developer,
the consulting company and the designers are closely working with the city in defining what the code requirements really mean."
206 views