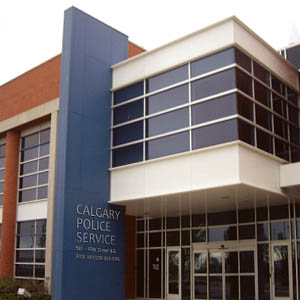 + The Calgary Police Service soon will have a centralized campus with easy parking and centralized operations. By Kelly McCabe
"It's like buying a new home and living in a new community."
> Michael Serediuk, project manager
Today, the Calgary Police Service has a 180,000-square-foot headquarters in the heart of the city, as well as 14 leased facilities that range from 5,000 to 10,000 square feet. But soon, it will be housed in just two buildings that span a sprawling 600,000 square feet.
CPS will take over the former site that communications giant Nortel used to call home. The west building on the Westwinds campus will be home to investigative areas; the east building will house executive and administrative functions, recruiting and training, the fleet services garage, and a public information and services area.
Project Manager Michael Serediuk expects renovations  to the existing buildings to begin this summer. One building will just receive interior renovations such as HVAC systems, signage, furniture and painting. "The other building was half manufacturing with very high ceilings and half offices," he says. "We're taking that half of manufacturing and putting in a second floor because of the ceilings."
Serediuk estimates that the 16to 18month project could cost around $25 million, but centralizing all operations will be worth it. In addition, he notes, the new site in northeast Calgary results in cheaper construction costs than if a new campus were built downtown in CPS's current location.
"The big driver is just the amalgamation, if you will, of the leased sites and other sites into a more centralized location," he says. "We're not under one roof, transportation back and forth is inconvenient, and we don't have that centralized approach to operations."
The Westwinds campus will consist of three lots on 59 acres. "Centralization means easier access to resources and decreased operating costs," CPS says. "This will make police work and investigations more efficient while enhancing inter-departmental communication."
Campus Feel
When completed, the campus will provide a high-tech work environment for roughly 1,000 employees. Parking for all employees and those visiting the police department can be an issue downtown, so CPS will ease those complications with 1,850 above-ground and 170 underground parking spaces.
"Parking for all staff members is important," Serediuk explains. "Right now, we're in the downtown core, so parking is an issue, as are transportation and logistics."
Although moving to the northeast side from downtown could involve complications as residents and employees get used to the new location, Serediuk says the city is anticipating the new facility. "We've always been downtown, and this is a shift to kind of move to the outer edge of the city," he remarks. "It may be a big challenge, with people commuting from different areas. It's like buying a home and living in a new community."
Westwinds also will be able to accommodate future growth. "Many depart ments  have outgrown their  existing facilities," CPS says.
"This  new campus  will  provide approximately 1,000 staff members with a comfortable workspace and high-tech equipment. And there will still be plenty of room for future expansion."
In addition to ample parking, the campus will include a fitness center and cafeteria. The renovation of the two buildings will be done to LEED Silver standards, Serediuk says, featuring ample natural lighting.
Weather Challenges
Canadian residents may be used to the country's weather, but its unpredictable patterns can provide challenges to construction projects. With a spring and summer season that may be as short as four months, Serediuk says CPS will hustle to finish much of the exterior work by winter.
"One of our biggest challenges here in Calgary is weather," he says, "because springtime  and  summertime are so short-lived. We're trying to get all the outside activity and roof activity done as quickly as possible. Weather plays such an impact. There's so much construction activity going on up here in spring and summer, with road closures, road resurfacings and building construction."
The project also is facing typical challenges such as the availability of labor, contractors and materials, but Serediuk says weather won't damper the construction schedule. "It's not like we're building on the edge of a volcano or anything," he jokes.
158 views