The existing building at 2040 Market Street in Philadelphia, formerly the headquarters for the American Automobile Association (AAA), sat vacant through the "Great Recession" of 2008–2009, providing a constant reminder of the dismal economy. Several developers reviewed the possibility of adapting the building for new use, and eventually PMC Property Group of Philadelphia decided to develop a vertical and horizontal expansion of the existing five-story concreteframed building.

Structural engineering firm The Harman Group was chosen to determine how many additional floors could be added to the existing building. Using a system incorporating a load bearing steel wall panel called Integrity Max by Integrity Wall Panel, along with the Ecospan composite joist floor system from Nucor-Vulcraft, it designed a 120,000-sq.-ft vertical overbuild that added eight residential floors to the existing building. The building was also expanded horizontally, with 68,000 sq. ft. Added to the original footprint reaching the same top floor elevation as the overbuild. This vertical and horizontal expansion turned a 120,000-sq.-ft vacant office building into more than 300,000 sq. ft of vibrant residential rental units and ground-level retail space, now known simply as 2040 Market.

The Ecospan floor system helped maximize the number of floors that could be added, thanks to its shallow depth and lightweight construction—a structure depth of 15 ½ in., a span to depth ratio of 27 and a weight of 40 lbs. per sq. ft. The light weight construction of this system allowed for three more overbuild levels than a traditional steel-framed system would have allowed. In addition, the floor joists have a special flush joist seat that allows for uninterrupted bearing through the floor slab from level to level, which is critical for load transfer.
The Integrity Max panel also helped minimize the weight of the overbuild portion, while at the same time helped reduce erection time. The 11-ft, 2½-in.-tall panel is constructed with 4-in. cold-formed tubes supplemented with 4-in. hollow structural sections (HSS) where required. The interior tubes can carry significant loads without any horizontal bridging, creating an open vertical space between studs for mechanical and other systems.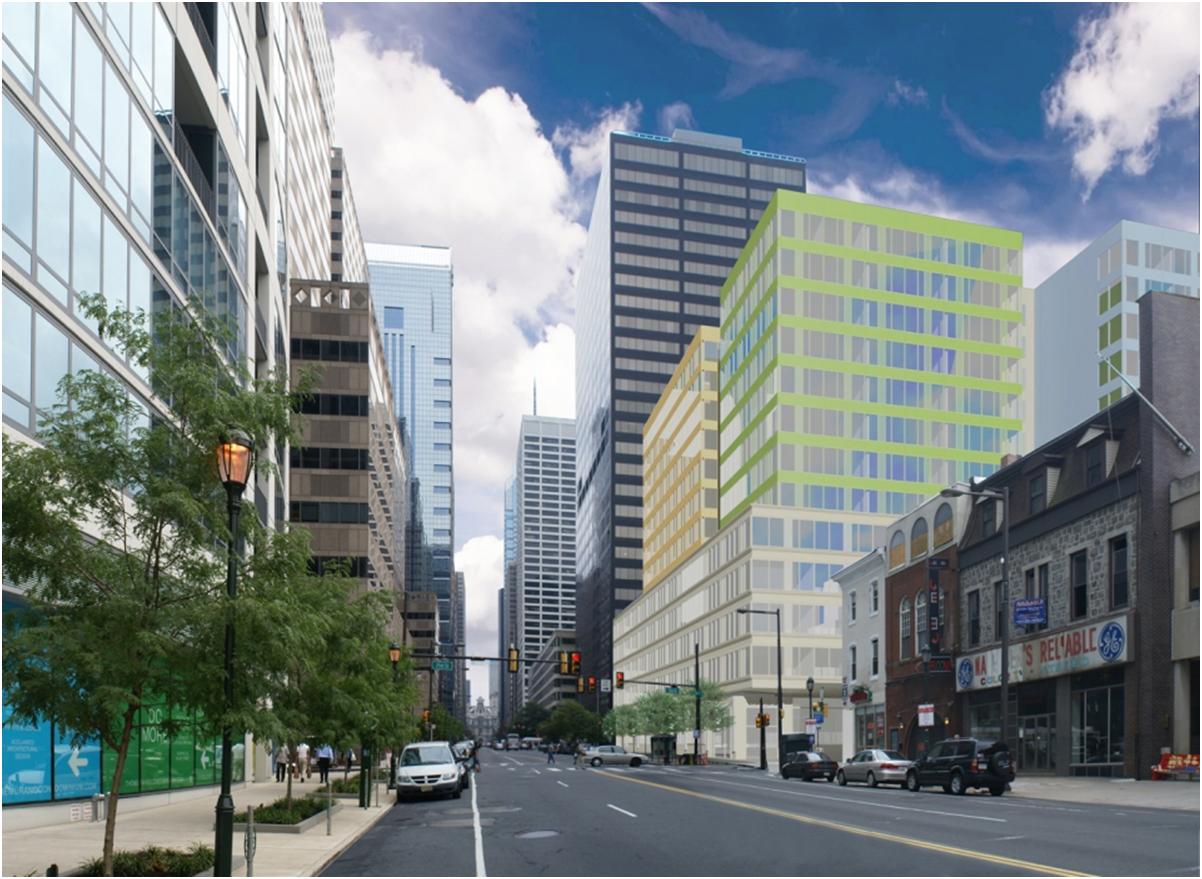 Structural engineers at The Harman Group, King of Prussia, Pa.

Jason Squitiere (

jsquitiere@harmangroup.com

)

Janis Vacca (

jvacca@harmangroup.com

)
Owner

PMC Property Group, Philadelphia
Architect

Varenhorst Architects, Philadelphia
Structural Engineer

The Harman Group, Inc., King of Prussia, Pa.
General Contractor

Fastrack Construction, Fort Washington, Pa.
Steel Team Fabricator and Detailer

Integrity Wall Panel/South Shore Iron Works, Chicago (AISC Member/AISC Certified Fabricator)
Erector

Quinco Contracting, Harleysville, Pa. (AISC Member)