Concrete
The main factors for concrete used in PSC are:

• Ordinary portland cement-based concrete is used but strength usually greater

than 50 N/mm2;

• A high early strength is required to enable quicker application of prestress;

• A larger elastic modulus is needed to reduce the shortening of the member;

• A mix that reduces creep of the concrete to minimize losses of prestress;

You can see the importance creep has in PSC from this graph: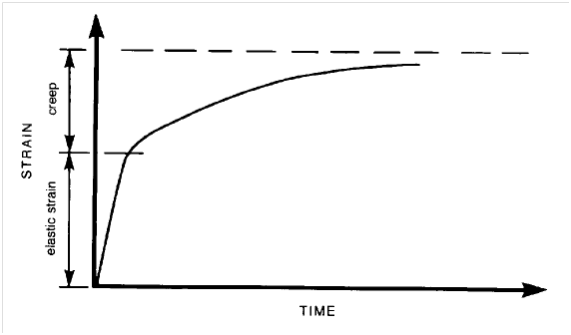 2.Steel
The steel used for prestressing has a nominal yield strength of between 1550 to
1800

N/mm2. The different forms the steel may take are:

• Wires: individually drawn wires of 7 mm diameter;

• Strands: a collection of wires (usually 7) wound together and thus having a

diameter that is different to its area;

• Tendon: A collection of strands encased in a duct – only used in posttensioning;

• Bar: a specially formed bar of high strength steel of greater than 20 mm

diameter.

Prestressed concrete bridge beams typically use 15.7 mm diameter (but with an
area

of 150 mm2)7-wire super strand which has a breaking load of 265 kN.