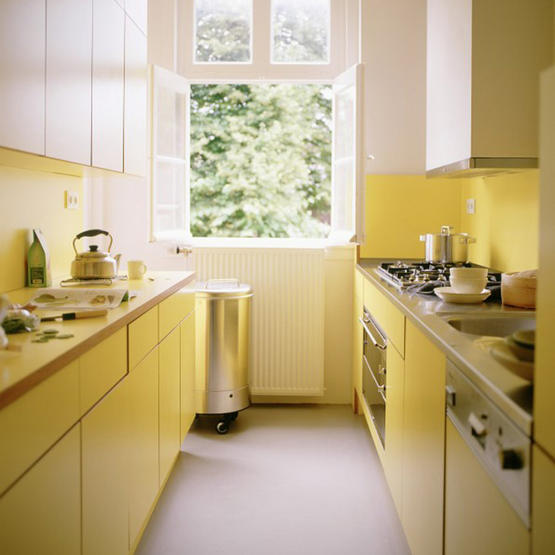 Not every home has a spacious and wide kitchen where all cooking lovers to swirl freely. The small kitchens are also equally cozy and conducive to culinary adventures. Here are some ideas and tips for small kitchen! They will unleash your culinary talent and your whole family will be satisfied and happy.
Practicality is the key to the perfect small kitchen, so the decor and furnishings should be comfortable to that particular criteria. Check below some tips that can make your small kitchen wider and to provide you the required space so you won't get the feeling that you cook in a closed tin.
---
Let there be light
Use this optical trick to make the kitchen visually more spacious. Keep curtains drawn and allow the passage of as much light through the windows as possible.
---
Color is everything
It is important what color you choose, because it can make the kitchen obviously smaller or wider. If you are looking for bold combinations, then just choose a brighter color for the kitchen cabinets and combine it with neutral decor and bright walls. Another option is to choose bright colors for the background and choose paler color furniture.
---
Functional furniture
They save space and give you huge advantage. You can make shelves inside the kitchen cabinet door (as in the refrigerator). Use a folding table and expand it only when you are in need. Choose your kitchen bar or kitchen island in such way that will enable you to have a place where you can cut vegetables, but which is also fitted with drawers and cabinets for storing utensils.
---
Less is more
Do not clutter the kitchen with many decorative elements. Try to keep the decor simple and use the space for its intended purpose. Limit yourself to 2-3 playful accents. One spectacular fruit bowl and fridge magnets work great. They will create the needed comfort and domesticity.
---
Be open
It's not necessary all shelves and cabinets to be have massive doors. Leaving some of them open or replacing the wooden doors with glass will add additional variety. This will create a feeling of openness and space.
---
Here are more ideas for small kitchen:
Choose kitchen cabinets and countertops from light wood to make the kitchen optically bigger. Cluttering the countertops with small appliances is a mistake, because you need that space for cooking. Just leave 2-3 appliances which you use more often, and put the rest inside the cabinets. If you have a possibility then you can use the space above the sink or close to the windows. Usually these parts of the kitchen are empty and you can fill them with a handy little shelf on which to keep spices, flower pot or the mandatory flour, rice and sugar in fancy jars. Keep the kitchen clean and serene. Do your best even if your nature is chaotic because the lack of organization in the kitchen will make the room look even smaller.
Use the above ideas and tips for small kitchen. They will make the room wider and brighter, something that will easily make your prepared meals fantastic.