There are several advantages of home with cedar siding starting from beauty, durability, protection and many other advantages. Cedar is considered to be one of the fantastic material for building possessing several natural qualities. If you want to opt for a cedar siding in your home you must have a look at some of the benefits of it.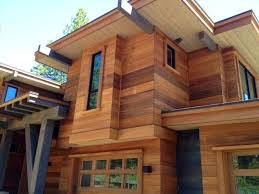 It lasts long
Cedar is much tough wood which stays away from many problems. Unlike other woods, it has a great power to avoid the problems like bacteria, rot, fungi and mildew which is an excellent feature. For maintaining for a long time, the thing you need to do is to clean it twice a year. Along with cleaning, you should also have a habitual check for moisture collection and termites. You might be shocked to know that your cedar can last for decades if maintained it properly with relevant care. As compared with other wood, cedar siding maintenance is very low.
Plenty of types and finishes
Cedar siding gives a beautiful natural look. For giving it original look, you can use it in natural untreated form. With passing years it will fade and get whiten but still it will long last. If you prefer a choice perfectly natural look, you can go for a clear finish. You also have a choice of painting your cedar siding. Along with painting you also got a option of finishing it. For maintain the immense beauty of cedar siding you need to repaint or refinish it every 4 or 5 years. With beauty cedar siding also offers you various types such as board and batten, bevel, tongue and groove, rough cut and many others. You might be surprised to know that it is also available in red or white.
Durable and tough
Cedar siding is strongly protective against problems like bending, splitting and swelling. It possesses a natural quality of fighting against rot and moisture problems. Known fact that it is durable with low maintenance but still like other wood sidings, you should make some efforts to protect it with layer of finish so that it last long along with maintaining its beauty. If you are expecting you will never have any trouble with cedar siding than it is totally wrong because none of the woods are totally insusceptible to the issues of rot, humidity or termites. Apart from this fact, cedar is much away from all these problems and it don't cut or warp easily.
Environment friendly
It's a wrong believed notion that using wood siding is not an environment friendly option. Up to an extent, this thing might be right but as far as cedar siding is concerned, it requires least treatment and processing. It is totally biodegradable once it is usable life. Cedar siding are completely renewable commodity and environment friendly commodity. It can last for much longer time as compared to other wooden parts and portions. Taking pine as an example, it does not last as long as cedar does.